LASIK (Laser in Situ Keratomileusis): Fundamentals, Surgical Techniques, and Complications

Stresses preoperative screening and careful planning for better outcomes. Explores the latest surgical techniques and tools to minimize the incidence of postoperative complications to refractive, corneal, and LASIK surgery.

---
Lasik Eye Surgery
Lasik Eye Surgery is a modern method to surgically correct vision problems.
Lasik stands for Laser-Assisted In Situ Keratomileusis.
Lasik is a procedure that permanently changes the shape of the cornea, the clear covering of the front of the eye. This 'reshaping' of the cornea is done with a modern instrument called the excimer laser and a special knife.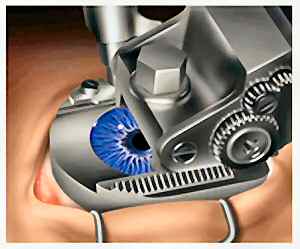 This knife, the a microkeratome, is used to first cut a flap in the cornea, not unlike the shape of a window or door: A hinge is left at one end of this flap. This flap is then folded back and makes the stroma, the middlesection of the cornea accessible, where the actual shaping takes place.
Now, the excimer laser is put into action by the surgeon: Pulses from this computer-controlled laser vaporize a perdetermind portion of the stroma to give it the correct shape to improve the vision. Finally the flap of the cornea is folded back over the stroma and a natural healing process starts to reconnec the cornea with the stroma.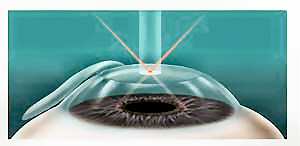 There are other techniques and many new terms related to Lasik that you may hear about.
(This article is based on the information that can be found at the Official Governement Lasik Site), the pictures are from The Lasik Institute.